Brooks Running introduces some major athleisure inspiration in their Spring 2017 Lookbook. 
It's Monday morning. Your alarm goes off after hitting snooze far too many times, and the thought of putting on jeans and adulting is unbearable. Luckily for us, fashion in the past few years has had a major shift towards catering to comfort and wearability, and we couldn't be any happier.
Street style seems to have overtaken the runway for fashion inspiration, and the result is the beautiful, glorious, praise-worthy trend of… athleisure.
What is athleisure, you ask? It's the marriage of your favorite comfy clothes with some high fashion flair. Kendall Jenner is killing it with this trend right now, and the style envy is real.
Brooks Running in Seattle, WA sent us some articles to try on, and they were so on point for the athleisure trend. We received the Core Vanguard sneakers in black and white, the Cascadia Shell Jacket, and the Greenlight Tights. Although these items come in many different color combinations, we chose all black because, well, black is always a go-to.
Okay, as cliché as this sounds, wearing these items made me feel active. I'm not one for sports, but I found myself running around the soccer field feeling really good. The Vanguard sneakers are super comfortable, and they support the large arch in my feet better than any athletic shoes I've ever owned.
The leggings fit like a glove, and the breathability of the fabric is a major plus. If you look closely at the photos, you can see a little ruffle detail near the ankle, which adds an adorable feminine flair.
The windbreaker is probably my favorite thing I received. It's light, comfortable, and has a trendy slit design on the sides. Even better, it has a hood, so there aren't any more excuses for not going on a run in the rain!
Seriously though, wearing athletic clothing can boost your self-esteem, and make you look super cute. Plus, these items are literally up for anything – Spontaneous hiking trip? Check. Walk around Green Lake?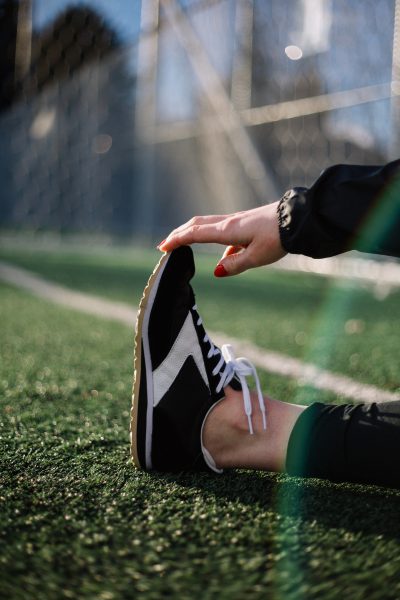 Why not. Netflix and chill?      So down.
Thanks again, Brooks!
Xoxo
Lindsay