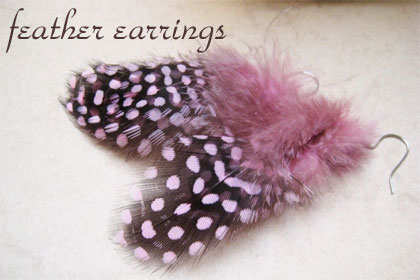 Feather Earrings. What do you think of them? If you are a regular Skinnypurse reader, you may know that I love feather earrings. They are a fun trendy jewelry piece that's easy to wear, and work with pretty much any hairstyle. Feather earrings are made for casual outfits, from little sundresses to shorts and tees. But depending on embellishments, they can also work with a dressy yet simple cocktail dress.
When Manomay Jewelry contacted me about doing a review, I was super excited to see a few pairs of feather earrings on their site. The pair I received is made from rosey pink and black feathers speckled with pink dots. Very glam! They are well made and good quality, but priced affordably. Lately, I've been wearing them with a simple t-shirt and jeans combo. I like how they add a pop of color.
A little about Manomay Jewelry:
Designer Ramya began making jewelry in 2008. Using beads, gemstones, pearls and more, the pieces in her collection range to fit a wide variety of personalities. Whether you like vintage-inspired floral pieces or modern trends, Manomay has you covered. Not only is everything on Manomay individually designed and handmade, but it's fully customizable. Let's say you see a necklace you like on Manomay.com but wish it was longer or had a few extra charms on it. Well you can email the designer and she will make that piece for you. That is a service that is hard to find these days without spending a fortune.
Bonus! Manomay is offering a special deal to Skinnypurse readers! Save 20% on Any purchase with code SKINNY-20 at checkout. Offer good now through August, 21st, 2011.